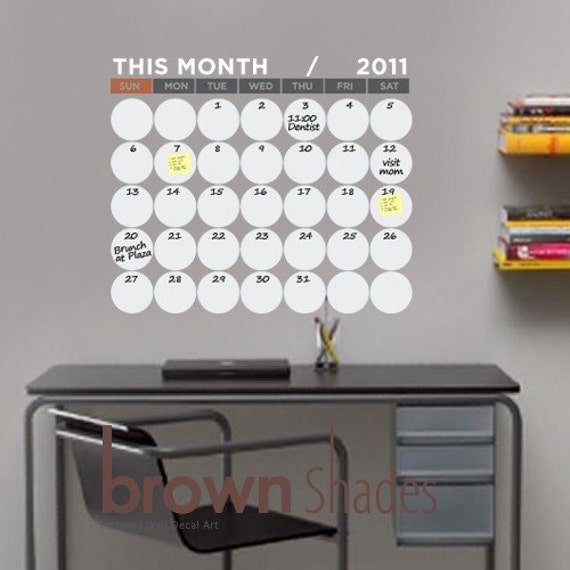 photo credit from a fabulous etsy shop.
Between work, Timothy's soccer team, my volleyball team, our own random appointments and NELA dates we stay very busy around the Mudd house. However, there are many weeks when Tim and I are on completely different schedules; he'll have a soccer game at home and I'll have a volleyball game away. He'll have a faculty meeting and I'll have a hair appointment. We definitely needed a system to keep up with one another, and of course I was able to find a calendar that is both function and super cute!
We snagged a wall-calendar decal from brownshades on etsy.com. The decal is made-up of a number of dry-erase circles and applies directly to the wall. We were able to customize the color scheme to coordinate with out kitchen colors. The decal comes with easy to follow step-by-step directions and a super handy applicator (which is a must to ensure all the air bubbles are pushed out).
Attach the decal (with paper backing) to the wall with tape.
Ensure that it is level and anchor the decal with a long strip of tape across the middle.
Tackling application is best if you apply the decal in sections; we started at the top.
Remove the paper backing.
Apply the decal using a plastic applicator to smooth out any air bubbles.
Apply the heading in the same manner.
After smoothing out any air bubbles, starting at the top peel back the protective-clear coat (we have no pictures of this step because Tim & I had to do this step together).
Enjoy with standard dry-erase markers.
I am color-coding so it will be easy to see who has an event with one quick glance.
I absolutely love our calendar.
Hopefully it will keep our busy newlywed life organized and well scheduled.